Africa is topping the charts of P2P bitcoin trading volume, recording $17 million in May 2021. This growth represents a near-50% increase year-over-year.
Data from UsefulTulips shows that Africa is the continent with the highest growth in bitcoin trading volume — which shows that the cryptocurrency market is really making inroads all over the world. Over the past six months, most African nations have shown a 15%-to-30% increase in bitcoin trading volume. For reference, North America actually experienced an 18% drop in trading volume.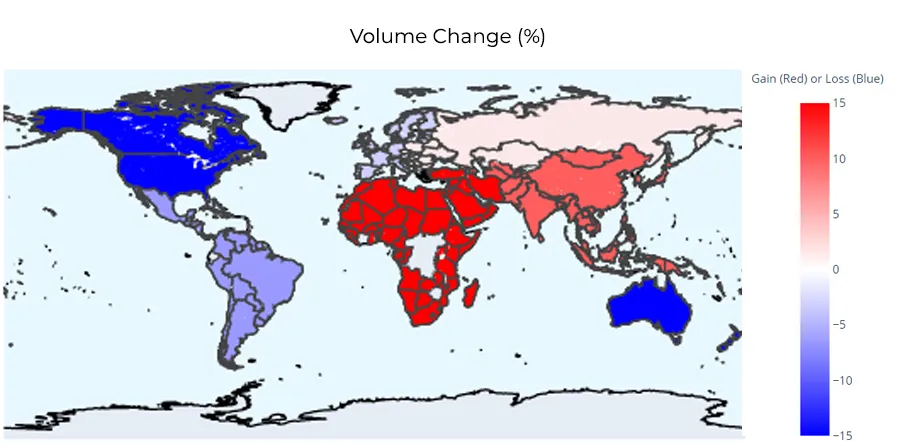 Sub-Saharan African experienced roughly $17 million in trading volume in May 2021, about 50% up from the same time last year. On the other hand, the Middle Eastern countries in Africa and North Africa show significantly lower trading volume in the month of May, at less than $1 million.
Africa as a whole is the fastest growing among all continents in terms of P2P trading volume. Overall, North America remains the most active, despite the significant drop. Africa's involvement in the crypto market has been growing since 2020, with search volumes indicating increased interest.
The heavy trading activity in Africa shows the growth of the cryptocurrency markets across the world. Several countries are now warming up to the cryptocurrency market and enforcing regulations. India, another major market for bitcoin and cryptocurrencies, also appears to be changing its stance on the asset class.
Tanzania prepares for 'use of cryptocurrency'
Speaking of African nations, Tanzania appears to be the next country to begin research and development on a central bank digital currency (CBDC). Tanzania's President Samia Suluhu Hassan asked the Central Bank of Tanzania to begin work on a CBDC in a speech offered at the inauguration of the Central Bank of Swahili building in Mwanza.
The President said that the internet has birthed a new journey, calling the bank to begin its foray with blockchain technology. She emphasized the need for technology as the world becomes more globalized.
Other African nations are also beginning their entry into the cryptocurrency market. Most notably, Nigeria announced that it would also work on a CBDC. Twitter CEO Jack Dorsey also said that "Nigerians would lead bitcoin.' Nigeria is a hotbed for cryptocurrency activity.
With El Salvador making bitcoin legal tender and multiple governments now working on CBDCs, including France, Canada, Australia, and South Africa, it appears that the market is ripe for adoption. The latter half of 2021 will likely see multiple governments draw up regulatory frameworks for the asset class.
Disclaimer: The views and opinions expressed here are solely those of the author and do not necessarily reflect the views of www.shalomratombo.co.za. Every investment and trading move involves risk. Any action the reader takes upon the information found on our website is strictly at their own risk.
Done Reading? Please Share